---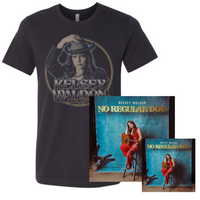 Sale
Kelsey Waldon - No Regular Dog Bundle
Sale price $ 22.50 Regular price $ 30.00
I am so excited to announce that my new record "No Regular Dog", produced by Shooter Jennings, is out on Oh Boy Records now! This record feels like a lifetime in the making after all we've been through the past couple years, and I am so proud of the stories and songs and what we created. The first single "Sweet Little Girl", is in part about me, but perhaps it's also about you. It's about the rage and unrest inside during a process to find healing. It's simply just about a gal who is trying to find her way back "home". I hope y'all enjoy the journey with this album. There is so much more to come and I can't wait to share it all with you in the months ahead.
Track Listing:

No Regular Dog 3:20
Sweet Little Girl 3:18
Tall and Mighty 3:11
You Can't Ever Tell 3:07
Season's Ending 4:26
History Repeats Itself 3:20
Backwater Blues 2:49
Simple As Love 3:27
Peace Alone (Reap What You Sow) 2:48
Progress Again 3:17
The Dog (Outro) 1:45
The T-Shirt is printed on 100% cotton Comfort Colors T-Shirt.