---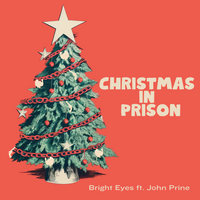 Christmas In Prison - Bright Eyes (Feat. John Prine) - Digital Download
21 years after their ever-popular A Christmas Album, Bright Eyes is returning to celebrate the holiday season with a deeply heartwarming version of John Prine's "Christmas In Prison," which we're releasing Oh Boy Records.

Prine, a notoriously huge fan of the Christmas season (the office Christmas tree stays up year-round!!), was a friend and hero to Conor Oberst (Bright Eyes). In fact, Conor recently appeared in video form for a Prine tribute at Austin City Limits, providing memories & stories — this will air on PBS next year.

All proceeds from the single will benefit Prine's charity, The Hello In There Foundation.

Featured within the one-off cover is a sample from the song "A John Prine Christmas," taken from its eponymous A John Prine Christmas EP from 1993.
*This includes a digital Christmas card download with purchase. The digital track and Christmas card will be sent to the email used on the order*
** Want to send this as a gift? You can use the recipient's email address and even include a gift message from the product or check out page**