---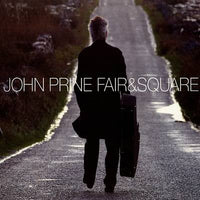 Fair & Square (CD) - John Prine
John Prine's 2005 release, winner of the Grammy Award for Best Contemporary Folk Album. If CD isn't your thing, we just reissued this on vinyl. Grab a copy here!
Track Listing: 

"Glory of True Love"
"Crazy as a Loon"
"Long Monday"
"Taking a Walk"
"Some Humans Ain't Human"
"My Darlin' Hometown"
"Morning Train"
"The Moon Is Down"
"Clay Pigeons"
"She Is My Everything"
"I Hate It When That Happens to Me"
"Bear Creek Blues"
"Other Side of Town"
"Safety Joe"