---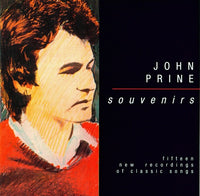 Souvenirs (Vinyl) - John Prine
John Prine's 2000 album, Souvenirs, a reimagining of his favorite tunes. Now available on vinyl from Oh Boy Records.
Track Listing: 

"Souvenirs"
"Fish and Whistle"
"Far from Me"
"Angel from Montgomery"
"Donald and Lydia"
"Christmas in Prison"
"Storm Windows"
"Grandpa Was a Carpenter"
"Late John Garfield Blues"
"Blue Umbrella"
"Six O'Clock News"
"People Puttin' People Down"
"Sam Stone"
"Please Don't Bury Me"
"Hello in There"