---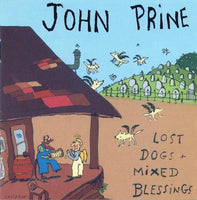 Lost Dogs & Mixed Blessings (CD) - John Prine
John Prine's 1995 album, Lost Dogs & Mixed Blessings, available on CD from Oh Boy Records. Includes the studio version of "Lake Marie".
Track Listing: 
"New Train"
"Ain't Hurtin' Nobody" 
"All the Way With You"
"We Are the Lonely"
"Lake Marie"
"Humidity Built the Snowman"
"Day Is Done"
"Quit Hollerin' at Me"
"Big Fat Love"
"Same Thing Happened to Me"
"This Love Is Real"
"Leave the Lights On"
"He Forgot That It Was Sunday"
"I Love You So Much It Hurts"